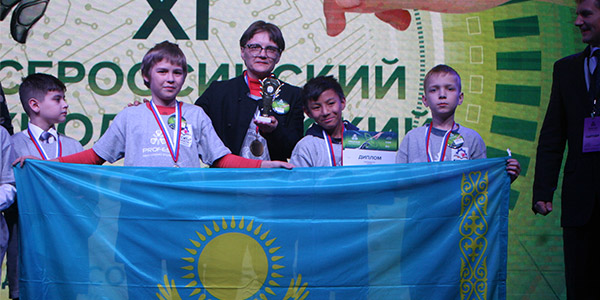 01/4/2019
Kazakhstan news
The XI All-Russian Festival of Robotics PROFEST 2019 was held in Moscow on March 20-22, in which Kazakh team from the specialized boarding school №1 for deaf children in Almaty won first place and received the right to represent the CIS countries at international competitions.
01/4/2019
Kazakhstan news
PROFEST (formerly RoboFest) is the largest in Europe and one of the largest festivals in the world, annually gathering the best participants of scientific and technical creativity aged from 6 to 30 years old, who present their unique designs. This is a platform not only for competitions in robotics, but also for training, gaming and entertainment programs: presentations, master classes, interactive lectures. Within the framework of the traditional festival, a business program, competitions for partners and resource centers of the program are organized, tours for schoolchildren are conducted.
The young Kazakhstani engineers of the KUSITIR-Kazakhstan team (the club of hobbies with modern engineering technologies and robotics) won among the 20 teams represented in the direction of Gigo GreenMech. This competitive direction is focused on the development of creative and engineering thinking: for a given limited time, children independently assemble a pre-designed model of the Ruba Goldberg machine, which provides for the operation of alternative energy sources using both the designer and additional approved eco-materials according to the regulations and thematic assignment. Gigo GreenMech has been actively held in Asian countries for over 10 years in the form of large-scale international competitions. Within the framework of the PROFEST2019 Festival, Gigo GreenMech was organized for the first time as a qualifying stage for the CIS countries with the invitation of the winning team to participate in the 2019 International Stage.
The participation of the specialized Kazakhstani team in such major competitions was held thanks to the support of the Samruk Kazyna Trust Foundation, the Ayala Foundation, and the Republican Public Association Kazakhstan Federation of Educational and Sports Robotics «KazRobotiсs».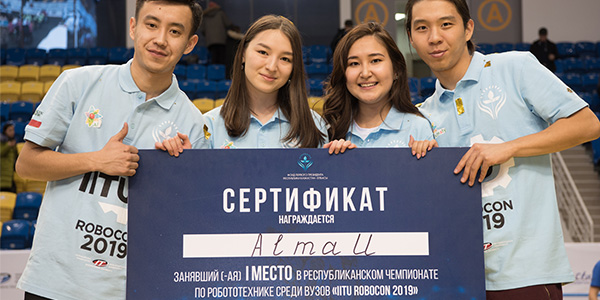 Last weekend in Almaty for the first time passed the Republican championship in robotics among universities IITU Robocon 2019. The winner will represent Kazakhstan at the ABU Robocon international robotics competition on August 25 in Mongolia.