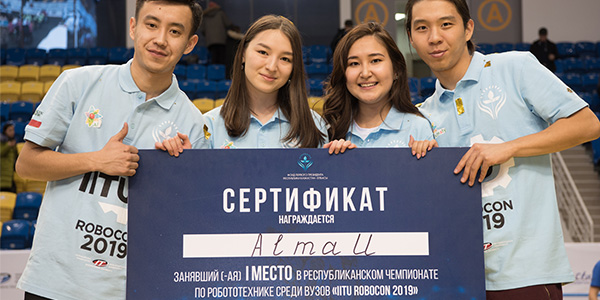 25/2/2019
Kazakhstan news
Last weekend in Almaty for the first time passed the Republican championship in robotics among universities IITU Robocon 2019. The winner will represent Kazakhstan at the ABU Robocon international robotics competition on August 25 in Mongolia.
25/2/2019
Kazakhstan news
In the competitions aimed at attracting Kazakhstani youth to participate in the innovation activities of the country was 15 strongest teams from Almaty and other regions. Each team was supposed to provide a jury two robots - automated and controlled with their specific tasks.
By decision of an expert jury, which included employees of the International University of Information Technologies (IITU), the Council of Science at the Foundation of the First President and representatives of international competitions in robotics ABU Robocon, team of Almaty Management Universitywon. They received the main prize - a ticket to an international robotics competition and the right to represent the country on ABU Robocon 2019. The second place went to team from the Al-Farabi Kazakh National University, the third place was deservedly received by cadets of the military-engineering institute of radio electronics and communications.
Representative of the non-profit professional association ABU Robocon from Japan - Mr. Arai, noted the good training of robot-creator teams and highly appreciated the scientific and technical potential of Kazakhstani youth.
Competitions were held on the basis of the platform Arduino, which allows you to develop a robot from scratch from design, mechanics and electronics to writing a robot intelligence program. In addition, mentors from the IT-University worked with each team for 7-8 months and helped young designers to create robots.
The IITU Robocon 2019 competition was organized by the Kazakhstani First President's Foundation and the International University of Information Technologies (IITU) as part of the development "Sandyk Kazakhstan" and "Rukhani Zhangyru" programs.