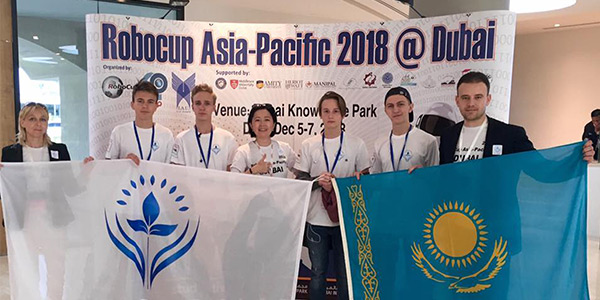 26/12/2018
News / Kazakhstan news
A team of schoolchildren STEAM RoboClub from Karaganda won the bronze medal at the RoboCup International Championship 2018 among robots.
26/12/2018
News / Kazakhstan news
RoboCup is a world-renowned international robots sporting event. For the first time, the World Cup was held in 1993 among football robots with a loud statement that by the middle of the 21st century robots would win a football match from current world champions according to the FIFA rules.
The Kazakhstani team was able to take part in competitions for the first time this year. Karaganda schoolchildren successfully passed the qualifying stage among the CIS countries in Tomsk and in the finals of the Asia-Pacific region brought Kazakhstan a bronze medal in the RoboCup Junior OnStage category.
President of the «KazRobotics» Federation Zhekeeva Aizhan: «The successful debut of Karaganda schoolchildren at such major robotics competitions was noted not only by the regular participants, but also by the organizers of RoboCup. The fact that the Kazakhstani team, having taken part in such a Championship for the first time, perfectly passed the qualifying round, reached the final and entered the top three, speaks of the good development potential of robotics in the country. Nevertheless, this is only the first step, the first serious attempt to declare themselves as a worthy player in the market, and there is still room for growth and development».
This year, the final of 2018 RoboCup of the Asia-Pacific region was held on December 5-7 in Dubai (UAE). Robots teams from 15 countries gathered at the competitions. The participation of the Kazakhstani team was made possible thanks to the support of the Foundation of the First President of the Republic of Kazakhstan.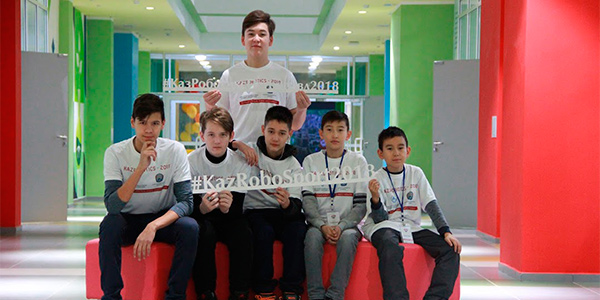 More than 250 schoolchildren and students from the CIS countries gathered on November 30 - December 1 in Petropavlovsk at the KazRobotics-2018 International Robotics Festival, organized by the Kazakhstani Federation of Educational and Sports Robotics «KazRobotics» with the support of the Foundation of the First President of Kazakhstan.