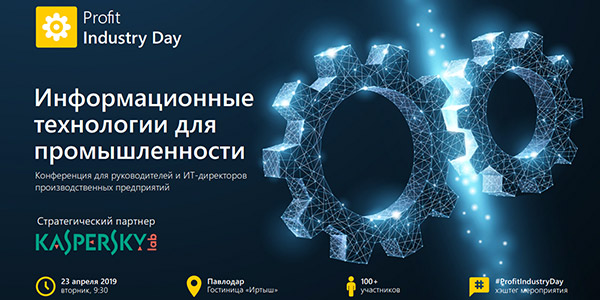 22/4/2019
News / Kazakhstan news
April 23, Pavlodar will host the annual conference "Information Technologies in Industry" Profit Industry Day 2019, designed for managers and IT directors of manufacturing enterprises.
22/4/2019
News / Kazakhstan news
At the conference, participants will discuss ways to develop the domestic industrial sector through information technologies and innovation, global ICT trends relevant to the Kazakhstan market, as well as issues of ensuring cybersecurity in production companies. KAAR President Vladimir Turekhanov will make a presentation on the topic "Industrial Robots as a Service" in the section "Digital Challenge: Business and Production Management".
In the program of the conference PROFIT Industry Day 2019.
Digital reconstruction of the enterprise;
Can domestic IT companies offer something to industry?
Industry 4.0: first results;
Electronic document management;
The main difficulties in the implementation of innovative projects;
IT support for continuous business and continuous production;
Major IS issues for industry.
More than 100 participants are expected from the food industry, FMCG market, mining, non-ferrous metallurgy, chemical production, processing industry and energy.
To take part in Profit Industry Day, you must register on the site: httpss://profitday.kz/industry#section-registration